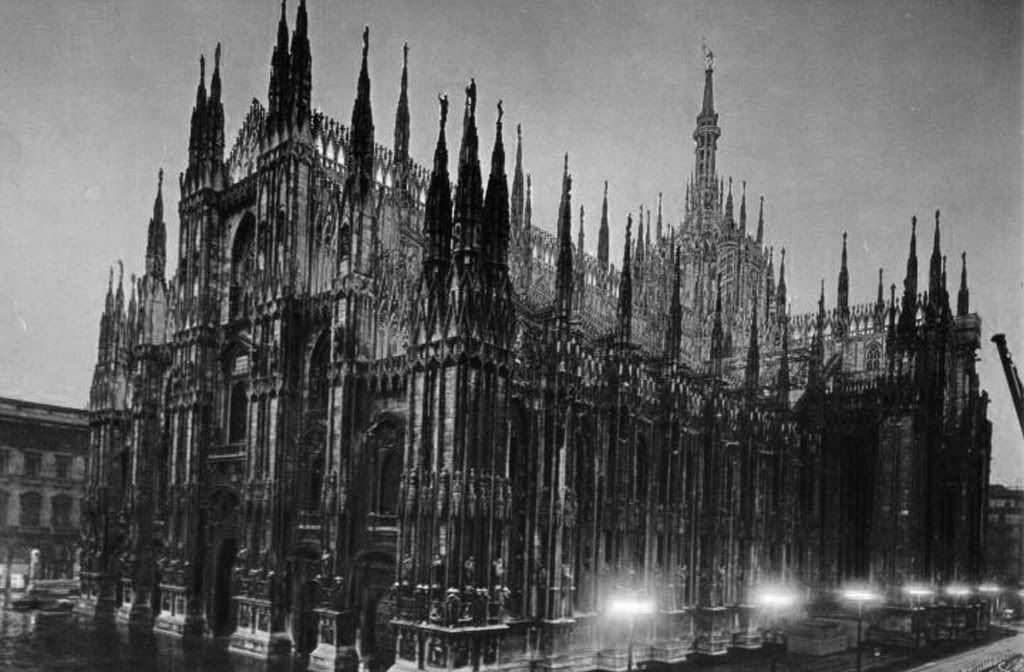 I had been meaning to post the article from part one, but I had misplaced it. The translation was the best that I could do. I suspect that I misinterpreted several sentences, but the main gist of it was clear I believe. The history of Lombardians in North America is a subject which is extremely difficult to outline and put the pieces together. I don't believe that the interview even scratched the surface of the subject! Any article about Lombardian-Americans should always mention Paolo Busti, Giacomo Beltrami, and Mother Cabrini. There were other well-known settlers and missionaries in places like Wisconsin. Joe Montana and Yogi Berra are at least half Lombardian.
From the article:
The main destinations to which this emigration was focused are St. Louis, Missouri, Herrin and Rockford, Illinois, Barre, Vermont, Iron Mountain, Michigan, Walla Walla, Washington, and then in Texas, in San Francisco (in particular in the area of San Rafael), in New Mexico and Arizona.
I'm well aware of "The Hill," which was a Milanese-speaking district in St. Louis after the Civil War. I once had a great article about The Hill that I had posted in one of my early websites, but I somehow lost the text. I'm not familiar with Herrin, Illinois, but I know there is a Lombard club today in Rockford. Barre, Vermont--from what very little I know--sounds like an extremely interesting history. There is some type of festa Italiana there during Memorial Day, for a week, each year. We've covered Iron Mountain in Upper Michigan, close to where my family settled when they came to this country. There were a few Lombard clubs in other parts of Yooper country (Upper Michigan/northern Wisconsin). The Ironwood-Hurley area and Duluth, Minnesota are two other areas where there existed Lombardian community.
From my own research, I have found quite a number of Camunian surnames in Washington state, and of course, we can't forget the Camunian history of Monongahela, Pennsylvania. I had posted a video here regarding Lombardian-Americans in Walla Walla, Washington; which is interesting in that it was an obscure far west location when they first migrated there. There isn't much to draw from as far as Texas, Arizona, and New Mexico in terms of information at this time. I know that there is some type of Lombard club in San Rafael that I wanted to look into. I had posted a little information about Lombardians in San Francisco before, and there was once a "Societa Lombarda of South San Francisco" long ago.
Of course, there is also the presence in northern California--southern California and northwest Nevada as well--of Ticinese descended people that once formed Swiss clubs in various locations. A few are still around, in particular in Marin County; also Imperial County in southern California. Ticinesi are Lombardian by language and culture. I've covered some ground here that I had covered before, but this article draws a wider perimeter to look at; and it should all tie-in at some point. There is at least some interest in our heritage, but it seems to be so fragmented and not placed under the umbrella of "Lombardian-American" as it should be.
Awhile back, I recall reading a few segments of what was I think a fairly new but obscure book about Italian immigrants in western Canada in the early twentieth century. The part that I read was regarding laborers in southeast British Columbia and southwest Alberta. It didn't mention much about where this community originated. Now I can see that this is another area that needs to be looked at. It was very interesting, much like the wild west. A century ago, western locations like this, or Walla Walla, were rural and very far from Lombardy.
I know that there is a sizable Bergamask club in Toronto, and apparently there is a more recent Brescian-Bergamask emigre community in Ontario. Sometimes I just wonder... how come I feel like the last to know? Ontario isn't very far from where my family settled in Upper Michigan, and it's part of the same "Great Lakes Region" I believe. That's part of the function of this blog. To make at least some attempt to put the fragmented pieces--separated by time, distance, and other factors--together in one reference. Apparently, I should state the obvious. We would like to have contact with Lombardians from around the world. It's like a greater family clan, scattered across the globe. Sadly, even though there is indeed some organization, we're not part of it yet.
I suppose that it might be said that the St. Ambrose Church in St. Louis is the symbol of the Lombardian existence on this continent. There is some type of organized Ambrosian church here, but I just don't know much about it. There are other Ambrosian churches around in different states. The Ambrosian Rite is from Lombardy, and is also called the Milanese Rite. It is part of the Catholic Church, but I don't think it's quite Lombardian-identity in the same way as the Greek Orthodox Church is "Greek."
What does all of this really mean? We would like to form a "Lombardian-American Society" of some type. Naturally we would like to see an equivalent in Canada as well. It can't merely be some P.O box in some out of the way location, and nobody ever hears from it. It must be brought about in a way that it creates some interest, and encourages people to put some energy into it. When all facets of Lombardian culture, especially as they have existed in some form in North America, are put together and examined; then the endeavor begins to take form. There is a "Lombardian-American endeavor," but when will all of it's bricks come together to form our citadel?
.