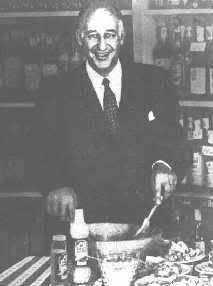 Last week, while grocery shopping, I noticed
"Cardini's Salad Dressing."
To me the name sounded like it could be of northern or Lombardian origin. Later I looked it up online and found that Caesar Cardini, whom the label was named after, is credited as the creator of the "caesar salad." His place of birth is mentioned simply as the "Lake Maggiore region," prior to emigrating to the United States (Sacramento).
Cesare Cardini (February 24, 1896 – November 3, 1956) was an Italian American restaurateur, chef, and hotel owner, who is credited with creating the Caesar salad.
He was born in the region of Lago Maggiore and had at least four siblings: Alessandro, Carlotta, Caudencio and Maria. While the sisters stayed in Italy, the three brothers emigrated to America; Alessandro and Caudencio eventually were in the restaurant business in Mexico City. Alessandro, who was called Alex in the USA, is reported to have been Caesar's partner in Tijuana, Mexico.
After having worked in European gastronomy, Caesar went to the United States in his early 20s. He ran a restaurant in Sacramento, then he moved to San Diego where he was in the restaurant business. At the same time he engaged in the same business in Tijuana, where he could avoid the restrictions of prohibition. He married Camille, and had a daughter, Rosa Maria Cardini (1928-2003).
Cardini is credited with having created "Caesar's salad" which became fashionable among Hollywood and other celebrities, especially after he had moved his restaurant a few blocks to the hotel built c. 1929 (nowadays called Hotel Caesar's).
The family moved to Los Angeles in 1935 and Cardini focused on the production and marketing of his salad dressing which he trademarked in 1948. He died in Good Samaritan Hospital on November 3, 1956 in Los Angeles following a stroke at his home at 8738 Bonner Drive and was buried in Inglewood Park Cemetery. His daughter took control of Caesar Cardini Foods Inc. Later, the label Cardini's was sold to a third party. It is still popular and offers more than a dozen varieties of the original recipe.
A Caesar salad is a salad of romaine lettuce and croutons dressed with parmesan cheese, lemon juice, olive oil, egg, Worcestershire sauce, garlic, and black pepper. It may be prepared tableside.
The salad's creation is generally attributed to restaurateur Caesar Cardini, an Italian immigrant who operated restaurants in Mexico and the United States. Cardini was living in San Diego but also working in Tijuana where he avoided the restrictions of Prohibition. His daughter Rosa (1928–2003) recounted that her father invented the dish when a Fourth of July 1924 rush depleted the kitchen's supplies. Cardini made do with what he had, adding the dramatic flair of the table-side tossing "by the chef."
A number of Mr. Cardini's staff have claimed to have invented the dish.
Julia Child claimed to have eaten a Caesar salad at Cardini's restaurant when she was a child in the 1920s.
Nonetheless, the earliest contemporary documentation of Caesar Salad is from a 1946 Los Angeles restaurant menu, twenty years after the 1924 origin asserted by the Cardinis.
The original Caesar salad recipe (unlike Alex's Aviator's salad) did not contain pieces of anchovy; the slight anchovy flavor comes from the Worcestershire sauce. Cardini was opposed to using anchovies in his salad.
In the 1970s, Cardini's daughter said that the original recipe included whole lettuce leaves, which were meant to be lifted by the stem and eaten with the fingers; coddled eggs; and Italian olive oil.
The trademarks "Cardini's", "Caesar Cardini's" and "The Original Caesar Dressing" are all claimed to date to February 1950, though they were only registered decades later, and more than a dozen varieties of bottled Cardini's dressing are available today. Some recipes include mustard, avocado, tomato, bacon bits, garlic cloves or anchovies. Cardini's Brand original Caesar dressing is somewhat different from Rosa's version.
Many restaurants offer a more substantial salad by topping a Caesar salad with grilled chicken, steak, or seafood. Certain Mexican restaurants may improvise on items such as substituting tortilla strips for croutons and Cotija cheese for the Parmesan, or the addition of tomatoes.
Ingredients according to the Hotel Caesar's recipe from about 2006:
*Romaine or cos lettuce
*Olive oil
*Fresh crushed garlic – often in olive oil
*Salt to taste
*Fresh-ground black pepper
*Wine vinegar
*Lemon juice or lime juice - fresh squeezed
*Worcestershire sauce
*Raw or coddled egg yolks
*Freshly grated Parmesan cheese
*Freshly prepared croutons
There are limitless variations. However, some of the more common are:
*Other varieties of lettuce
*Grilled poultry (most often chicken), meat, shellfish, or fish
*Capers
*Romano cheese
*Anchovies
*Bacon
.