Recently, when traveling down the coast along Hwy 1 in San Mateo County, I noticed two small reminders of what seems to have now become something from the distant past. Off to the side of the highway was a restored Airstream travel trailer. The vintage silver and round trailers, apparently most associated with the 50s and 60s; although they actually go back to the 30s. Back to the decades when average working class Americans were first exploring the western states from east of the Mississippi, or from coastal California eastward. I don't know if any documentaries have been produced about this period, as the memories are basically within families and individuals.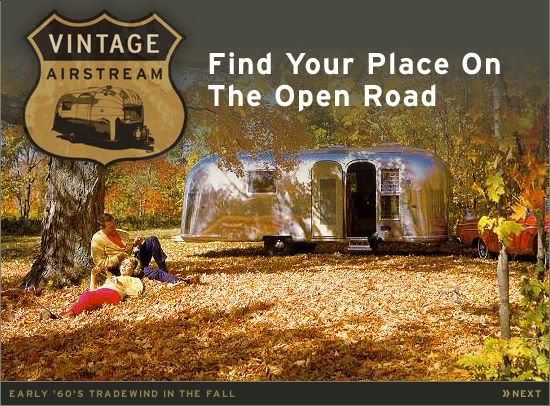 Manufactured in Ohio, Airstream was one brand, but there were probably others. I can recall the times when my father rented a camper for six-week vacations to the Midwest in the 70s and 80s, and although it wasn't silver and round... the Airstream is still the initial symbol of that road spirit of travel. A smaller Airstream would have been very affordable I think. Wealth and class can be a matter of perception, as when these trailers first came on the market, even poor families (the norm in the 30s and 40s) usually owned a house, had at least one automobile, perhaps seven or eight or more children... and got by on one modest income! Where I live today, the average cost of a small studio apartment is about $1,700., which means that someone would need to net an income of about $5,700. per month to pay this rent on the government recommended 30% income for rent!
Many aspects of the quality of life were better then I think; and many of those family memories would be attached to vacations and these trailers. We all have looked at old family photographs of our parents, grandparents, or great-grandparents by their old home, vintage vehicle, or even an antique gas pump. I can even recall early memories of spending vacations at our family cabin in Lake County, California during the 70s. At that time, rural areas were much more behind the times than today, and I can recall a few of those old rounded red gas pumps--such as Texaco--which were still operational.
These vintage gas pumps--often red or green--look beautiful when restored. Very close to where I saw the Airstream trailer, I got gas as a Valero station right off Hwy 1 where they have restored one of these antique gas pumps for display inside. The category for this area of collectibles is called "Petroliana." I find it odd that the more technologically
advanced society becomes, the less stylish it looks. However, I see where many cities are frequently going back to the old street lamp styles along business districts and on certain roads. Also, the results of very sightly home building materials now very affordable and available.
It must be humbling to many that the (new) "Oldies" are music from the latter-60s, 70s, and 80s. Yes, the 80s are now "Oldies!" Still, if something is quality, it will always be noticed. Such as the sub-trend among many young adults towards 70s music. It's not unusual, for example, to hear a Patsy Cline song in some small store perhaps. She died young, before I was born, but her music is still largely familiar.. and not demotingly "old."
.