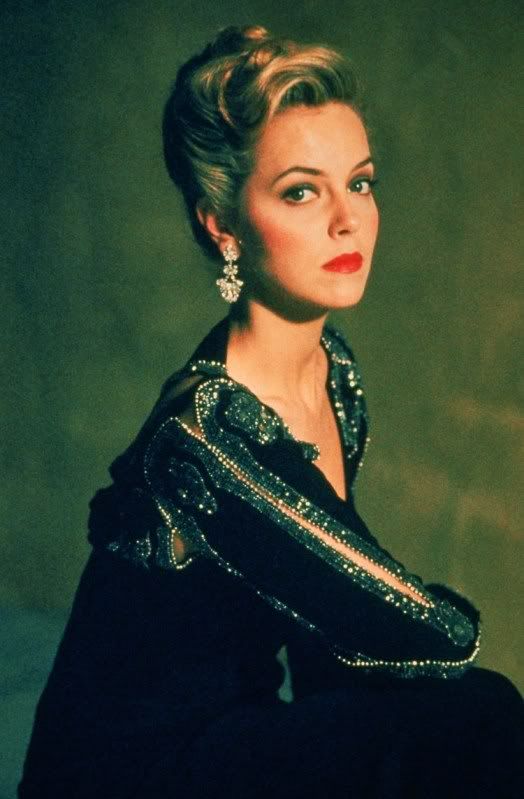 'White Mischief' is a British movie portraying a well-known (in the UK) murder case which occurred during World War II. During the German "Blitz," British elitist Jock Delves Broughton, and his much younger wife Lady Diana Broughton, escape to Colonial Kenya. They quickly fit in with a particular well-established crowd of their peers in the rural countryside. I guess that even the Westernized capitol of Nairobi was too close to the war front, although there were scenes shot along the coast.

This resort-like atmosphere seemed to be all fun-and-games, as there was little open concern of the prospect that the UK may lose the war and be colonized themselves. It sort've reminded me of the accounts of the Roman elites enjoying themselves as Rome fell to the barbarian hordes; or even the elites on the Titanic, who partied as the ship was sinking. The British had colonies the world over, and it would have been easy for the wealthy to hide out in many places. I suspect that they were investing and planning what they may do. It should be noted that the word "English" refers to the ethnic group, while the world "British" refers to the whole of the United Kingdom.

The Kenyan countryside portrayed was not the typical sub-Saharan landscape that most think of. It looked more like New Mexico; dry, somewhat mountainous. It seemed like an unlikely atmosphere for the unfolding debauchery among the social circles of these aristocratic personalities. I think that this movie reflected the final days of the globe as being just a big playground for this type of elitist. In other words, the days of wandering the exotic globe while the home front--which they may return to at any time--remains secure and unchanging, is gone. Sure they may still travel--even easier--but the entire world as a whole is less welcoming to their whims in a new world where they are a small minority of competing races, religions, and cultures.

The Broughtons soon met the philandering Josslyn Hay, who almost immediately partakes in an non-discrete affair with Lady Broughton. That is the basic storyline, and I won't do a spoiler for this. Suffice to say, there is conflict and drama. It's a pretty easy watch, as there are no deeper storylines. Jock Broughton is more-or-less the protagonist, and he is played by British actor Joss Ackland whose face I have seen in numerous movies. Lady Broughton is played by a young beautiful Greta Scacchi. Joslyn Hay is played by British actor Charles Dance, who is also a familiar face.

Greta Scacchi was born in Milan, but grew up in the UK. She is half Milanese; and I think half English. Naturally her Lombardian ancestry is why I am writing this review, and she is someone very familiar to the English-speaking world. Her mother was an English citizen, as she then became as a girl. The word "great" is thrown around so often, but I objectively say that she is a very good actress. I perceive her performance in this movie as being somewhat like Kathleen Turner in 'Body Heat' (1980). The storylines are similar, and the sultry-sophisticated performances of both actresses are pointed to by some as quasi-real/fictional "perfect tens." However, Scacchi has been a much better actress than Turner. In 1995, Greta Scacchi became an Australian citizen.
~Warning: Spoiler alert beyond this point!~
White Mischief (Wikipedia)
White Mischief is a 1987 film dramatizing the events of the Happy Valley murder case in Kenya in 1941, when Sir Henry "Jock" Delves Broughton was tried for the murder of Josslyn Hay, Earl of Erroll.

Based on a book by the Sunday Times journalist James Fox (originally researched with Cyril Connolly for an article in December 1969), it was directed by Michael Radford.


Plot

With much of the rest of the world at war, a number of bored British aristocrats live dissolute and hedonistic lives in a region of Kenya known as Happy Valley, drinking and indulging in decadent sexual affairs to pass the time.

On a January day in 1941, Josslyn Hay, the philandering Earl of Erroll, is found dead in his automobile in a remote location. The Earl has a royal pedigree but a somewhat sordid past and a well-deserved reputation for carrying on with other men's wives.

Lady Diana Broughton is one such woman. She is the beautiful wife of Sir John Henry Delves Broughton, known to most as "Jock," a man at least twice her age. Diana has a pre-nuptial understanding with her husband that should either of them fall in love with someone else, the other will do nothing to impede the romance.

Diana has indeed succumbed to the charms of the roguish Earl of Erroll, whose local conquests also include the drug-addicted American heiress Alice de Janze and the somewhat more reserved Nina Soames. It appears that Diana expects to divorce Broughton and marry the Earl, and, true to his word, Broughton publicly toasts their affair in front of them at a club in Nairobi.

The resentment he feels privately is known only to Broughton and possibly to old friend Jack Soames. In any case, the Earl's murdered corpse is found not far from Broughton's estate, and before long Broughton is charged with the crime.

Diana is distraught over losing her lover, as is Alice, who openly masturbates near his coffin. A local plantation owner, Colville, quietly offers Diana advice and solace, ultimately surprising her by proposing marriage.

Broughton stands trial. There are no witnesses to the crime and the physical evidence is incriminating but circumstantial. He obviously had the motive and means, but is found innocent and the scandal comes to an end.


Related article of interest:
'White Mischief' murder finally solved after 66 years (DailyMail.co.uk)
.