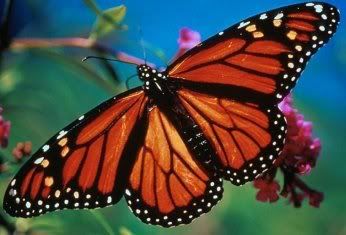 Monarch butterflies back at Fremont grove
[see above link for images]



Carolyn Jones - San Francisco Chronicle - January 6, 2013

The monarchs are back, and so are their mysteries.

Great hordes of the vivid orange-and-black butterflies have descended upon a eucalyptus grove in Fremont, as they have for decades, but with every awed gasp from observers Sunday morning came just as many questions.

Such as why, for example, the numbers vary so widely from year to year. Two years ago, about 1,600 monarchs spent the winter in the eucalyptus forest at Ardenwood Historic Farm. Last year 4,000 made the trek, and this year naturalists counted about 1,700.

"There's many factors, but it's really hard to say what exactly triggers things with these butterflies," said Spencer Freidin, a naturalist with the East Bay Regional Park District, which runs Ardenwood. "There's just a lot of mysteries, which is why they're so fascinating."

Weather, herbicides and habitat are the main variants. But how these factors interact is complex, scientists said. Worldwide, monarch populations are dropping steeply, according to the journal Insect Conservation and Diversity.

The key, however, appears to be milkweed, a scrappy bush that's toxic to just about everything but monarchs. It's the only plant on which monarchs lay eggs, and without it, they can't reproduce. As goes milkweed, so goes the monarch.

Ardenwood has plenty of milkweed, thanks to the staff, and a broad stand of quiet eucalyptus that provides shelter from wind. It attracts the Bay Area's largest monarch congregation every winter, although the charismatic insects also show up in smaller numbers at Point Pinole, a golf course in San Leandro and Albany Hill. Pacific Grove, north of Monterey, gets so many monarchs the town throws an annual Butterfly Parade.

The butterflies at Ardenwood probably started their migration 800 miles north, in British Columbia. That's another of the great monarch mysteries: Because the butterflies live only a few months, how do new generations know to return to the same spots year after year?

The answer probably has something to do with temperature variations, waxing and waning daylight hours, milkweed flowering, and maybe some secrets only the butterflies know, Freidin and his colleague Kelsy Jorgensen said.

In any case, they captivated the few dozen observers who braved the mid-40s temperatures, even forgoing an afternoon of football, to see the insects Sunday afternoon. As the crowd oohed and aahed at the spectacle, the butterflies huddled in clusters of several hundred in the trees, occasionally fluttering loose before re-congregating.

"When I was a little kid, there were so many butterflies I'd just lie there for hours watching them float on little updrafts of air. It seemed like they could do that for hours," said Gloria McClain, 75, of San Jose, a retired electronics technician. "Now, every butterfly I see seems to be flying frantically, like it's just trying to stay alive."

Gavin Riley, 6, was celebrating his birthday with the butterflies. He and some friends watched them through a small telescope and got to see a few close up, too.

"I like them because they fly, and I like their colors," he said.

His mother was a little more effusive.

"They're gorgeous. They're amazing," said Kathryn Riley of Fremont. "I'm really glad the kids get to see this."

For Freidin, the most interesting facet of monarchs is not their migration but their reproduction. After the eggs hatch on the milkweed leaves, the caterpillars eat the milky sap in the flowers and then encase themselves in tough little chrysalises for about two weeks.

"Inside the chrysalis is this green goo," he said. "Somehow, on a cellular level, it restructures itself into a butterfly. ... I never quite got this process until I got here and saw it. It's fascinating."

The butterflies are expected to stay at Ardenwood through mid-February before heading north again. For information, go to sfg.ly/106NFgc.
**************************************************
Three images, which give some idea of these gatherings, are 1 ,2, and 3.
.