Born: 24 June 1950

Occupation: Writer; Wiccan Priest

Spouse: Stewart Farrar and Gavin Bone
Janet Farrar (born Janet Owen on 24 June 1950) is a British teacher and author of books on Wicca and Neopaganism. Along with her two husbands, Stewart Farrar and Gavin Bone, Farrar has published "some of the most influential books on modern Witchcraft to date." According to George Knowles, "some seventy five percent of Wiccans both in the Republic and Northern Ireland can trace their roots back to the Farrar's."

Farrar has been one of the most public faces of Wicca, having appeared as a model for book covers and illustrations in several of the best-read books on the subject. Farrar is a frequent guest lecturer on the subjects of Wicca, Neopaganism and witchcraft in North America and Europe.
Farrar, in a photograph taken by her husband, Stewart Farrar, demonstrates the "Osiris pose" in a 1981 book she co-authored. Farrar's willingness to model for early books about Wicca made her one of the most recognized faces in Neopaganism.
Biography
Farrar was born in Clapham in 1950. Her family, of mixed English, Irish and Welsh descent, were members of the Church of England. Farrar attended the Leyton Manor School, and the Royal Wanstead High School girls' school. After high school, Farrar worked as a model and receptionist.
Farrar was initiated into Alexandrian Wicca by the tradition's founders, Alex and Maxine Sanders. Farrar met the Sanders in 1970 through a friend who had become interested in exploring Wicca. Farrar accompanied her friend in order to keep the friend "out of this weird cult", but Farrar instead joined the Sanders coven, and would go on to become, in the words of Knowles, one of "England's most eminent and respected modern day witches." In the coven she met Stewart Farrar, her future husband and co-author.
Janet Farrar asserts that the couple were both elevated to the second degree "in an unoccupied house in Sydenham" by the Sanders on 17 October 1970, and that they received the third, and final, degree of initiation in their flat on 24 April 1971, but that these events are disputed by some Alexandrian "revisionists".
The Farrars had begun running their own coven in 1971, before their third degree initiation ceremony, and were handfasted in 1972 and legally married in 1975. Janet Farrar left the coven in 1972 to explore Kabbala with a ceremonial magic lodge, but returned within the same year. In 1976 the Farrars moved to Ireland to get away from the busy life of London. They lived in County Mayo and County Wicklow, finally settling in "Herne Cottage" in Kells, County Meath. Both husband and wife went on to publish a number of books on the Wiccan religion and on coven practises. Farrar continued to model and appeared in the illustrations to multiple early books about Wicca, including the cover of the paperback version of Margot Adler's 1979 Drawing Down the Moon.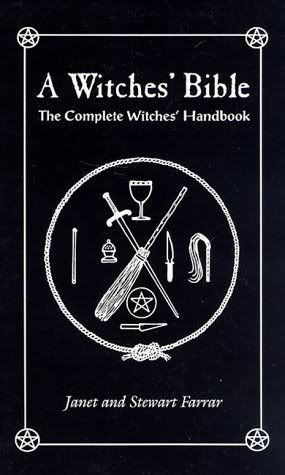 Farrar also posed for many of the photographs in their 1981 Eight Sabbats for Witches, which included material the authors claimed to be from the Alexandrian tradition's Book of Shadows. The Farrars, with the support of Doreen Valiente, argued in the book that even though the publishing of this material broke their oath of secrecy, it was justified by the need to correct misinformation. Janet Farrar indicates that some of the rituals contained in the couple's books were actually written by them, and that they left the Alexandrian tradition after the book's research was complete. The couple co-authored four more books on Wicca. Janet Farrar's post-Alexandrian practice has been referred to as "Reformed Alexandrian".
The Farrars returned to England in 1988, but by 1993 had returned to Ireland. They were joined by Gavin Bone, with whom they entered into a "polyfidelitous relationship". The three of them would co-author two more books, The Healing Craft and The Pagan Path, an investigation into the many varieties of Neopaganism. Stewart Farrar died in February 2000 after a brief illness.
After Stewart Farrar's death, Janet Farrar and Gavin Bone have continued to author books, and have given a number of lectures on Wicca in the United States, Australia and in Britain. The title of their 2004 book, Progressive Witchcraft, is the description that the couple prefers for their current religious practice.
Bibliography
Farrar has co-authored a number of books about Wicca and Neopaganism.
With Stewart Farrar
1981: Eight Sabbats for Witches
1984: The Witches' Way
1987: The Witches' Goddess: The Feminine Principle of Divinity
1989: The Witches' God: Lord of the Dance
1990: Spells and How they Work
1996: A Witches' Bible: The Complete Witches' Handbook (re-issue of The Witches' Way and Eight Sabbats for Witches)


With Stewart Farrar and Gavin Bone
1995: The Pagan Path
1999: The Healing Craft: Healing Practices for Witches and Pagans
2001: The Complete Dictionary of European Gods and Goddesses


With Virginia Russell
1999: The Magical History of the Horse
With Gavin Bone
2004: Progressive Witchcraft: Spirituality, Mysteries, and Training in Modern Wicca
**************************************************
From what I have seen, Janet Farrar is about as close as it gets within the leadership of the current milieu, of a woman worthy of the title of "a daughter of Cern." I have not liked a lot of what I have seen within the current leadership. There are a lot of modern politial tie-ins, non-folkish beliefs, lack of cultural pride, and "Feminism" as opposed to the tradition of Cernic women actually being leaders in the community at large. "Man-hating," in general, is about as far as one can get from the Cernic tradition; and, of course, the opposite would be true as well.
Janet Farrar is beautiful lady in many ways. The only thing I have looked at so far that I don't really agree with is the nudity as far as initiations. There are a lot of problems with that. It unnecessarily makes earth-based paganism look suspect; and it generally "throws a monkey wrench" into the whole idea of Cernic woman being close to people within their communities.
Cernic women are to be "spiritual mothers"; advisers of life's problems. I think we have all seen examples, just in general, of certain women--virtually all married mothers--who have friends or relatives who, while visiting their home, gravitate to them for advise. Sometimes these women are younger than those to consult with them. It's a beautiful aspect of our distant culture, which has been lost within "cultural" Capitalism and Marxism.
Personalty, I can think of three such women. Once I found myself speaking to one of them while her husband was in the garage working on his motorcycle. I was distressed about something, and I found myself sitting on an ottoman, literally at her feet, looking up at her. She had on a long, mostly black, earthy dress. Her leg was crossed, and her foot was slowly spiraling in a circle as I told her about a certain issue of mine. She gazed at me, listening, as her two young children quietly played on the floor nearby. Her brown eyes reflected neither an upbeat nor a gloomy mood; before finally giving her assessment of the situation. Now this woman was Catholic, but somehow our folk traditions remain deep inside of our genetic memories.
One other such woman, also married, a Christian, and a mother; comes to mind. I can recall one time walking up to her home with her husband. She was in front of her door, then greeted me by name, smiling. It was confirmation that this was "her home," not like just walking into someone's house and maybe saying "hi" to them sitting across the room. "Hospitality" is one of the Nine Noble Virtues of Odinsim. It's a big part of Cernism I believe. It doesn't mean that anyone is welcome. I think that it chiefly means that this part of our lives is important, and how a family treats a guest genuinely stands for something.
Another time, exactly the same thing; I walked into a friend's home for the first time. As I entered the living room, there she was! His wife, very long light brown hair, hazel eyes, slender, long red earthy-type dress, holding a fluffy orange cat, and standing directly in our path. As I know now, she was the type of woman whom you must earn her trust. She looked right into my eyes as I approached her. Her stare was neither positive nor negative. The message was not lost upon me... this was HER house! I have not witnessed this power from any man I don't think. It's sad that so many younger men cannot comprehend what a real woman is all about.
One time recently I heard a young adult ask the question, regarding our culture, "what is our culture anyway?" I think the foundation would start with women like these. I believe that we have been herded into the false paradigm of a symbiotic Hegelian dialectic; and this pervades even modern attempts at getting back to our folkish earth-based spirituality.
.