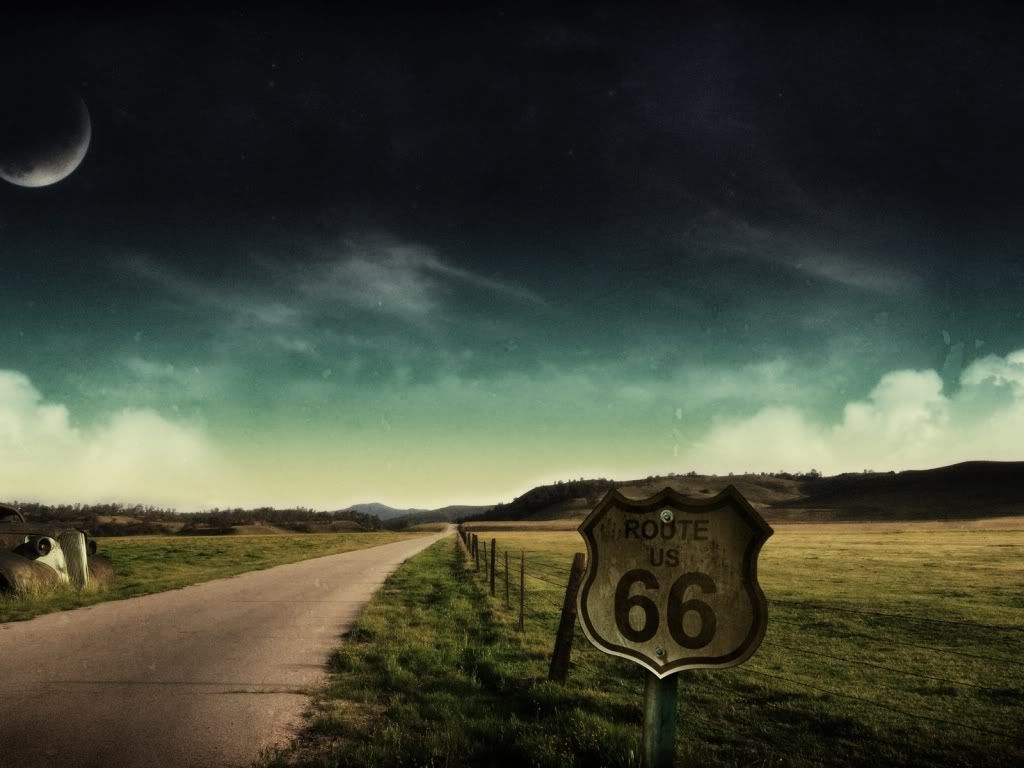 Route 66 - The spiritual connection
U.S. Route 66, established in 1926, was the main auto route opening up the west from Chicago to L.A. It travels through Illinois, Missouri, Kansas, Oklahoma, Texas, New Mexico, Arizona, and southern California. As the hit song goes, "Get your kicks, on Route 66." Even though my family took a more northern route to northern California, I still see the highway as a historical symbol of this east-west trek. It was one of the reasons for the incredible growth of Los Angeles in the 50s and 60s, as opposed to the slower growth of the San Francisco area.
The 2,000 mile highway has been the backdrop to countless movies. The 1983 comedy 'Vacation'

and

the 1986 thriller 'The Hitcher' come to mind off the top of my head. Clearly its part of the psyche of the country, whether or not we're even conscious of it or not. It's not just about the highway as it is today, but imagine a family traveling across its vast rural stretches over the many decades. Traveling on a hot early evening during the summer, perhaps even prior to air conditioning, looking forward to the next road stop. Imagine life along the highway, in one of those towns, the endless motorists stopping in.
There were probably many people on the run, down on their luck, victimized somehow, or big dreamers who got on it to "just head west." The concept of freedom; "the promised land" just "a little further west." It wasn't enough to only go part way, but somehow they had to go all the way. Some probably should have stopped short, as they eventually ended up on skid row, or many dreamers ended up another tragedy. It's almost a little like "the crossroads." It's more than just a stretch of road. Just as in nature, it has a duality to it.
Route 66- John Mayer (with lyrics)
amjdamjd
A hidden gem by Patsy Cline
PATSY CLINE - In Care of the Blues (1957 Original)
verycoolsound
Who's hotter at The Weather Channel - Jen Carfagno or Maria LaRosa?
It's funny, this YouTuber is obsessed with the women on The Weather Channel.
Jen Carfagno and Maria LaRosa (both also have legs (15) wow! (HD))
Paul
Great segment(s) from "Weather Center Live" of Jen Carfagno & Maria LaRosa. (6/26/15)
The Hex Factory interviews
Recently, I've been downloading all types of podcasts and articles into my iPod for some very long and tedious work I've had to do. For text, I copy and paste it into FromTextToSpeech.com where I can make mp3's out of them; some even an hour or longer. With the "Alice" voice, it's just like a person reading them to you, and I did this with three text interviews so far from Hunter Yoder (TheHexFactory.com). They were great.
Jack Montgomery - A very interesting and unique current and historical American perspective, especially from the standpoint of German-speaking folk culture where it developed (Pennsylvania, Ohio, the Carolinas, etc.). Also, aspects of German neopagan influence under the surface.
Robert Taylor - A perspective from an artist and musician who's lived a very interesting life; and it gives an insight into one of many ways that one can reach their true calling in this modern non-congruent American culture.
Wyatt Kaldenberg - Great insights into the blunt reality of Odinism and American/world politics. I mean, I believe that he's correct in his conclusions.
Although I love books and text, I enjoy these interviews and long articles more just having them read to me like this. The spirit of the words really come through.
Kamchatka - A beautiful unknown northern land
It's amazing that Russia has so much open and underpopulated land, and sitting right above billions of people in Asia. The pristine Kamchatka Peninsula sits north of Japan and west of Alaska, and its landscape is much like Alaska. I was surprised to read that its people are overwhelmingly Russian (origin from Russia proper) and Ukrainian, with very few Siberian native types. The former Soviet Union tried to populate every corner of its massive landmass, and under Communism it's didn't work especially well, but they did it to a large extent. There are many photos and documentaries about Kamchatka's wilderness and wildlife, but the below video shows its capitol and largest city Petropavlovsk-Kamchatsky. Although rather backwards currently, I still feel like the northern gods are present in this land.
Discovering Kamchatka
cucumax
.