A full moon on a "moon day"
This coming full snow moon falls on a Monday ("moon's day): Monday, February 22. However, it's something of a tweener in North America, as it will occur between Sunday and Monday nights. Here on the west coast, it will occur at 10:20 AM. I would lean towards Monday evening. To find your time, click here.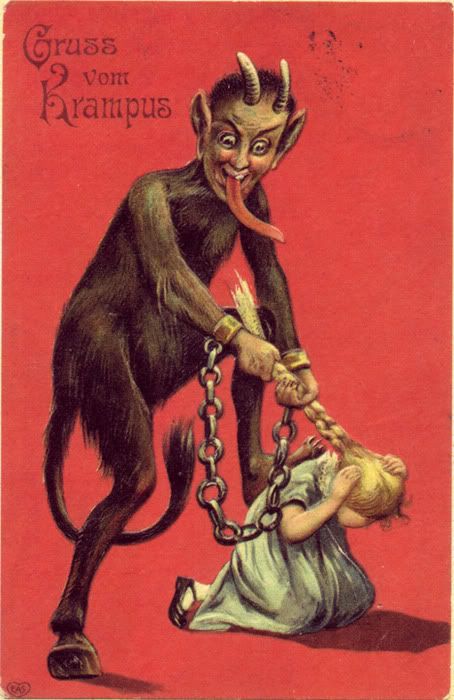 Krampus revisited
According to Wiccan blogger Aldora (KitchenWiccan.com), Krampus---the quasi-Christmas Devil, popularized this past Christmas due to a horror movie---did not originate from any Pagan tradition. 'The Krampus – has no Pagan Roots!' (12-8-15):
The Krampus, where did it come from? Where did it originate? I can tell you he's very much alive in Austria & Croatia! Associated within the Germanic belief systems with St.Nikolaus, same origin of the North American Santa Claus. I haven't been able to find any information attaching such a creature to Pagan roots.
I don't know that we could ever know for certain, since the early Christian church conflated many country legends and traditions with Christian beliefs... usually with "the Devil." They used to attach science with the Devil! I would guess that Krampus has origins in either local pagan tradition or folk legend.
Tarzan TV series 1966-1968
This year is the 50ith anniversary of the not-especially-memorable Tarzan TV series from the late 60s. I recall watching it from the very late 70s and early 80s, and it was wonderfully cheesy. Ron Ely (Tarzan) was in great shape, but he spoke and acted just like your neighbor three doors down the street. The scenery looked a whole lot more like southern California than tropical Africa. The innocent and vulnerable part of "art." Somewhat uniquely, it didn't feel like the 60s... but more like the 80s. The equivalent Batman series, comparatively from the same time period, was indeed very 60s.
1st U.S. sanctioned Satanic ritual
This is from last December in Lansing, Michigan. Although somewhat interesting to listen to, Satanist groups are vastly different; therefore who are the real "Satanists?" They range from quite benevolent to truly evil, from theist to atheist to merely a philosophy. In this way, they really aren't all that different than a couple of religions that I can think of. As I've covered here before, it all goes back to the ancient Sun cults versus Saturn cults... when Saturn was our second star. I believe in planetary-body equality myself.
Crazy Jesse Duplantis
When channel surfing along the Christian networks, the word "boring" comes to mind. However, there is one Cajun pastor in Louisiana who really breaks the mold. It's not "religious eccentricity" either. This guys a real character; more like a stand up comic.
.