Above: Nadia Fanchini celebrates her silver medal in downhill at the FIS Alpine World Ski Championships 2013.
All three of the Fanchini sisters--Nadia, Elena, and Sabrina--are competing now at the Winter Olympics in Sochi, Russia. All have been plagued with injuries in the past, but have shown flashes of brilliance. They seem to be healthy now, so this is their chance. Nadia is the best known of the three, and was #9 in the world in Alpine skiing in 2009, as well as winning the silver medal in the downhill a year ago at the world championships.
I find it difficult following the games as there are so many events covered every day and broadcast on four channels about twenty hours a day. On DirectTV's MSNBC, there's an interactive guide which helps. Basically, the evenings are when the major competitions are broadcast.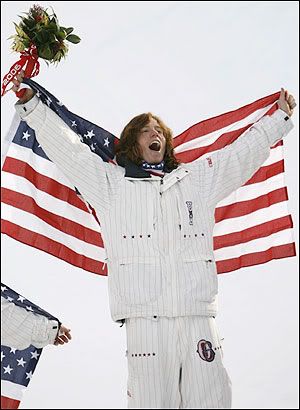 It's easy to see that things must go "just right" to achieve a medal. American skier Bode Miller, who had done so well in the past week, was just off and couldn't get on track. He has one more chance. So far, snowboarder Jamie Anderson from South Lake Tahoe has given the best performance by an American that I have seen so far. She made it look so easy. Julia Mancuso from Nevada County, California near Tahoe, competes tonight. She is the most decorated American Olympic Alpine skier of all-time and is still only 29.
I think the snowboarding, which is relatively new in the Olympics, has really been a big draw for the Winter Games.. and the Americans are really good at it. Shaun White has been the biggest star in recent years, and now Jaime Anderson will be right up there too. Snowboarding is like the Winter version of surfing. Even the laid back attitudes are similar.
**************************************************
Fanchini, together with the three sisters finally ... "End of the World!"



Gianmario Bonzi - SnowAlps.com - September 19, 2013

The Brescia Montecampione support each other in Ushuaia. Nadia manages its knees, but still trains in three specialties; Elena studied to improve the position in egg, Sabrina finds the feelings right after the injury.
Just to get a taste, waiting for the most important tasks, one is already back on the top step of the podium, while in the non-competitive South American Cup But, it is said in the'' environment of sport, winning is always good no matter at what level. It helps morale. And the moral of the sisters Fanchini of Montecampione (Brescia), is certainly high, at this moment: Sabrina, born in 1988, Nadia, 86, and Elena'', 85'' you are finally together, all three, in the long South American trip that precedes by one month or so'' the beginning of the World Cup alpine skiing from 2013 to 2014.
Although aggregated at different teams, with Sabrina & Nadia and Team slalom-giant (but'' the last trains at speed) and Elena in the falling-super-G. Nadia and Elena have won the World Cup and also won world championship medals, the hope is that we can succeed even tinier. Sabrina, by the way, is back on skis for a few months, after the'' last left knee injury suffered almost a year ago in North America. And now back also feels good sensations on skis: "All'' beginning it was hard to ski, but slowly I'm finding confidence, I am very satisfied with my growth here in Ushuaia because every day I improve. I worked on all , and two disciplines, and giant slalom, with an eye more for wide doors. "
Elena must be able to exploit its enormous potential, which is only seen at times in the last four seasons: "Everything is going well in Argentina - he says - we discesiste abbamo placed two blocks of training, one of six days and the'' more than five days, divided as follows: three downhill, super-G 4, 2, and one giant slalom. I'm concentrating primarily to improve the position and egg on'' attitude right to take to deal with each descent.' And very nice to be here in Ushuaia all three together,'' is a bit like being at home, we help if we have any problem and then of course we have fun, as forever."
Nadia Finally, it handles well for the moment, maybe stopping one lap earlier companions to be easy too his knees operated four times. "We did a really good job, all concentrated initially on giant. Thereafter, from September 6, since I came the other companions of teams, I trained in super-G and downhill. I feel good, pain in the knees is under control, of course - he says with a touch of negativity that never fails, but actually hides great determination - I know I'll never be at the top, it is impossible. But now I live with this situation. And of course I will do everything back on top in the race. Not if I can, but I will try with all my strength. " Good luck to all three!

Twitter: @ gianmilan76 E-Mail: gianmariobonzi@neveitalia.it''

.