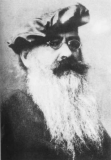 Guido von List [from his Wikipedia page]

Guido Karl Anton List, better known as Guido von List (October 5, 1848 – May 17, 1919) was an Austrian/German (Viennese) poet, journalist, writer, businessman and dealer of leather goods, mountaineer, hiker, dramatist, playwright, and rower, but was most notable as an occultist and völkisch author who is seen as one of the most important figures in Germanic revivalism, Germanic mysticism, Runic Revivalism and Runosophy in the late 19th century and early 20th century, and continues to be so today.

He is the author of Das Geheimnis der Runen (The Secret of the Runes), which is a detailed study of the Armanen Futharkh, his intellectual world-view (as realised in the years between 1902 and 1908), an introduction to the rest of his work and is widely regarded as the pioneering work of Runology in modern occultism.


Biography

Guido von List was born in Vienna in the Austrian Empire to Karl Anton List, a prosperous middle class leather goods dealer, and Maria List (née Killian). He grew up in the Leopoldstadt district of Vienna. Like the majority of his fellow Austrians at that time, his family was Roman Catholic, and he was christened "Guido Anton List" as an infant in St Peter's Church in Vienna on October 8, 1848.

In 1862 a visit to the catacombs beneath the Stephansdom (St. Stephen's Cathedral in Vienna) made a deep impression, and List regarded the catacombs as a pagan shrine. As an adult he claimed he had then sworn to build a temple to Wotan when he grew up. This he recounted in volume 2 (page 592-593) of his book Deutsch-Mythologische Landschaftsbilder:

It was in the year 1862 - I was then in my fourteenth year of life - when I, after much asking, received permission from my father to accompany him and his party who were planning to visit the catacombs [under St. Stephen's Cathedral in Vienna] which were at that time still in their original condition. We climbed down, and everything I saw and felt excited me with a kind of power that today I am no longer able to experience. Then we came - it was, if I remember correctly, in the third or fourth level - to a ruined altar. The guide said that we were now situated beneath the old post office (today the Wohlzeile House No. 8). At that point my excitement was raised to fever pitch, and before this altar I proclaimed out loud this ceremonial vow: "Whenever I get big, I will build a Temple to Wotan!" I was, of course, laughed at, as a few members of the party said that a child did not belong in such a place… I knew nothing more about Wuotan than that which I had read about him in Vollmer's Wörterbuch der Mythologie.

Despite these artistic and mystical leanings, Guido was expected, as the eldest child, to follow in his father's footsteps as a businessman. He appears to have fulfilled his responsibilities in a dutiful manner, but he took any and all opportunities to develop his more intense mystical and naturesque interests. The trips that List had to make for business purposes gave him the opportunity to indulge his passion for hiking and mountaineering. This activity seems to have provided a matrix for his early mysticism.

His father died in 1877 when List was 29 years old. It appears that neither he nor his mother had his father's keen sense of business, and as economic times became difficult List quit the family business to devote himself full time to his writing, at this time still of a journalistic kind.

During this time List wrote articles for newspapers, such as the Neue Welt (New World), Neue deutsche Alpenzeitung (New German Alpine Newspaper), Heimat (Homeland), and the Deutsche Zeitung (German Newspaper), which dealt with his earlier travels and mystical reflections on the Loci (land spirits). Many of these written newspaper articles were anthologised in 1891 in his famous Deutsch-Mythologische Landschaftsbilder. He also had articles appear in the Leipziger Illustrierte Zeitung and on a regular basis in the newspaper Ostdeutsche Rundschau (East German Review), owned by the powerful publicist and parliamentary deputy Karl Heinrich Wolf. At this time he also came to know well Georg von Schonerer, a leading political figure and Pan-German member of the Imperial Parliament.

He also had many articles appear in periodicals such as Laufers Allgemeine Kunst-Chronik, Der Sammler, Das Zwanzigste Jahrhundert, Die Gnosis, Der Deutsche, Neue Metaphysische Rundschau, Die Nornen, Österreichische Illustrierte Rundschau and Johannes Balzli's occult magazine Prana.

In 1878 List married his first wife, Helene Föster-Peters. However, the marriage was not to last through this difficult period.

Through the years 1877–1887 List was also working on his first book-length (two-volume) effort, Carnuntum, an historical novel based on his vision of the Kulturkampf between the Germanic and Roman worlds centred at Carnuntum around the year 375 CE that was published in 1888 by the Wannieck family's organisation and publishing house Verein "Deutsche Haus" ("German House" Association) in Brno, where List made the acquaintance of the industrialist Friedrich Wannieck. This association was to prove essential to List's future development.

Throughout this period in List's life he devoted himself to writing more neo-romantic prose, such as Jung Diethers Heimkehr ("Young Diether's Homecoming") in 1894 and Pipara in 1895. An anthology of his earlier journalism Deutsch-Mythologische Landschaftsbilder was published in 1891, and List developed his writing skills in poetic and dramatic genres as well.

In 1892 he delivered a lecture on the ancient Germanic cult of Wuotan to the Verein Deutsche Geschichte (German History Association), and it is said that numerous other associations allied with this one proliferated in Austria at this time. Another group, the Bund der Germanen (Germanic League), sponsored a performance of List's mythological dramatic poem, Der Wala Erweckung ("The Wala's Awakening") in 1894. In another performance of this drama in 1895, which was attended by over three thousand people, the part of Wala was read by Anna Wittek von Stecky, a young actress who in August 1899 became List's second wife.

During the years 1888–1899 List was involved with two important literary associations. In May 1891 Iduna, which had the descriptive subtitle of "Free German Society for Literature", was founded by a circle of writers around Fritz Lemmermayer. Lemmermayer acted as a sort of "middle man" between an older generation of authors (which included Fercher von Steinwand, Joseph Tandler, Auguste Hyrtl, Ludwig von Mertens, and Josephone von Knorr) and a group of younger writers and thinkers (which included Rudolf Steiner, Marie Eugenie delle Grazie, and Karl Maria Heidt). The name Iduna was provided by List himself and is that of a North Germanic goddess of eternal youth and renewal. Richard von Kralik and Joseph Kalasanz Poestion, authors with specifically neo-Germanic leanings, were also involved in the circle. The other organisation List was involved with was the Literarische Donaugesellschaft (Danubian Literary Society), which was founded by List and Fanny Wschiansky the year the Iduna was dissolved in 1893. At this time List met Rudolf Steiner and Lanz von Liebenfels but his association with Liebenfels did not develop until Lanz had left the Heiligenkreuz monastery in 1899.

In August 1899, List married Anna Wittek von Stecky.

.