More dates
Brigit of Kildare (February 1; Catholic and Orthodox)
Imbolc (February 2; Wiccan and Pagan)
Full "Quickening Moon" (February 3)
Váli's Blot (or
Válisblot;
February 14; Heathen/Odinist)
Thought provoking quotes
"You have to leave the city of your comfort and go into the wilderness of your intuition. What you'll discover will be wonderful. What you'll discover is yourself. --Alan Alda
"There is a principle which is a bar against all information, which is proof against all argument, and which cannot fail to keep man in everlasting ignorance. That principle is condemnation before investigation." --Edmund Spencer
"I love to struggle. I think life without pain is no life. I'd rather be dead than comfortable." --Diane Venora
"There are a lot of things people can do that are not normal; that are of benefit to society." --Frank Zappa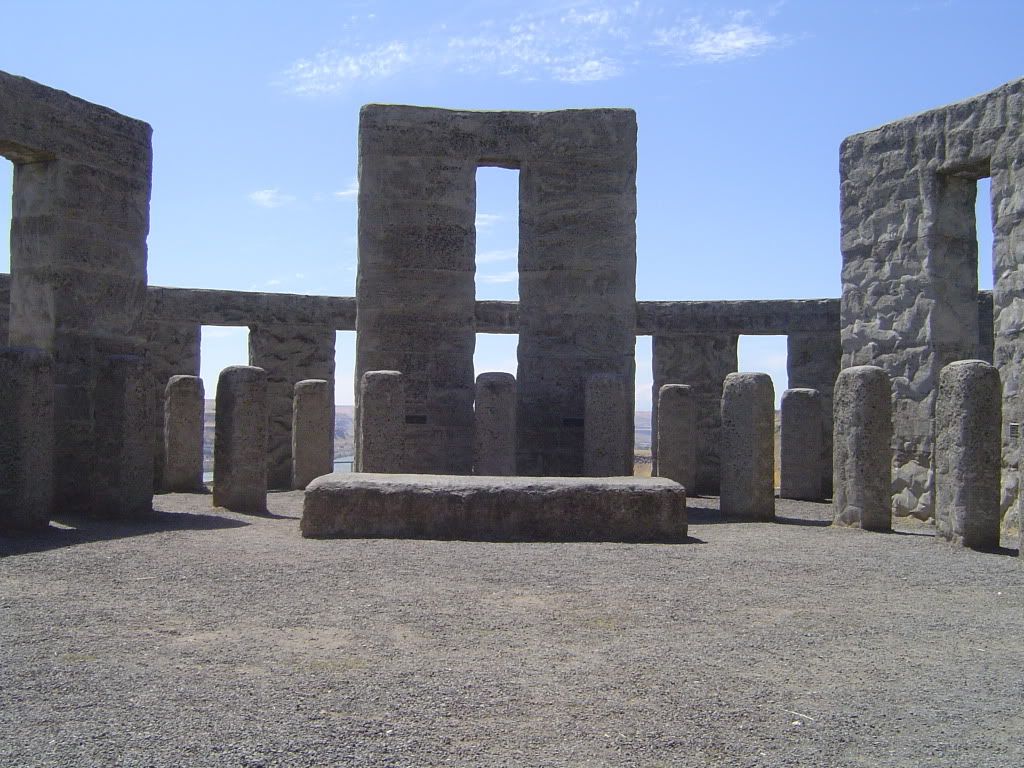 Stonehenge... by the Columbia River
There's a wonderful Stonehenge replica in Washington state off U.S. 97 near the city of Maryhill. Construction was completed in 1929 to serve as a World War II Memorial for servicemen from the area. It's called the Maryhill Stonehenge. On a google image search of Maryhill Stonehenge, you can see how beautifully it sits on the plateau with Mt. Hood in the backdrop. On the website clonehenge.com, you can perhaps find "a stonehenge" near you.
Mario Mantese
Mario Mantese is the former bass player of the short lived, but very successful, UK-American 70s soul group Heatwave. You may remember the hits 'Boogie Nights', 'Always and Forever', and 'The Groove Line'. I won't paste the entire Wiki story here (link above), but he was almost fatally stabbed by a girlfriend at a party in 1978, only a couple of years after the band came into prominence. He was clinically dead, but survived and was temporarily blind, but however eventually made a full recovery. During this process, he had a deep spiritual awakening, and has since become a well known author and spiritual guru. He's presumably of Swiss Italian descent (Lombard). Actually the band itself, the original members, were ravaged with tragedies shortly after they became so successful.
This was 1976... The year before Boogie Nights was released.

Johnnie Wilder's amazing vocals & Rod Temperton on the keyboards.

Who could have known that, within 3 years, Mario would be stabbed by his girlfriend & temporary blind, Jesse would be fatally stabbed in Chicago, the wonderful Johnnie would be paralysed from the neck down from a car accident & Rod would be hugely successful writing Michael Jackson's "Off The Wall" & "Thriller" albums
--bootsamou, YouTube user
Spinners of tall tales
Doc Marquis
It's hard to give a brief statement on Doc Marquis. He's a Christian fundamentalist who claims to be an ex-Illuminati member. He is a researcher, author, and lecturer. He has some well viewed YouTube videos. This guy has been around awhile, and he is unique in that he says so many things that are so obviously untrue, out of context, out of proportion, misdirected, slanted, spun, and incomplete that it just blows you away. A well written article on Witchvox.com gives a good rundown on the bizarre history of Joseph "Doc" Marquis: Part one and part two.
Bill Schnoebelen
Bill Schnoebelen has also been around awhile, and is much the same as Doc Marquis, claiming to be and ex-Illuminati turned fundamentalist Christian. He gives the impression of being good natured, almost like a comedian, making him easier to listen to. He fits well into the character of a "teller of tall tales," and has some well viewed YouTube videos. On one of them, he got a group of people at a Minnesota church so riled up after one of this lectures, that one woman who was apparently a leader of the group got up on the podium and gave what amounted to a declaration of war against the evil pagan underground. That's the dark side of a Bill Schnoebelen type, even if one might find him entertaining or amusing. This prompted one YouTube polytheist to produce a funny video series entitled 'Bill Schnoebelen EXPOSED!!!'
Caryl Matrisciana
Caryl Matrisciana has also been around, and is more dedicated, political, earnest, and dangerous than the prior two put together. She and her husband have produced many fundamentalist documentaries under their company Jeremiah Films. They seem to all be on YouTube. There's an interesting short piece about her and Jeremiah Films on Witchvox.com. I'm not so biased as to not admit that there are things within these related subjects where I may agree with Caryl Matrisciana, and disagree with Witchvox.. for my own reasons or understanding of the truth; or that there aren't clear political ambitions within mainstream Wicca, going so far as to demand certain socio-politcal "conditions" to even associate with them.. just as fundamentalist Christians often do. However, at the core, she is a good looking and well spoken woman who is.. quite frankly, a genuinely mean person.. and a deceiver.
.