'Pan's Labyrinth' - From 'The Greatest Movies Ever' (#24):
"Goya meets Alice in Wonderland in this genre-obliterating tour de force," Kinn and Piazza write of the 2005 film directed by Guillermo del Toro. "Intermingling dark and shimmering special-effects imagery with an abiding respect for character, del Toro questions our notion of the polarity between reality and imagination." The director was next to author Stephen King at a screening of the film and saw King shifting uncomfortably at some of the gorier sections. Del Toro said it was the greatest moment of his life. Actor Doug Jones played the creepy Pale Man and the Faun that speaks with girl explorer Ofelia, and he was the only American involved with the production as well as the only person who didn't speak Spanish. He had to memorize his lines as well as those of star Ivana Baquero, who played Ofelia, so he would understand when he was supposed to speak.
The protagonist is a little girl named Ofelia, whose widowed mother has just married a high ranking Fascist officer in 1944 Spain. They are going to live with him in a remote wooded mountain location, while he administers a local effort to crush the anti-Fascist rebels. It's not clear to me as to whether or not the rebels are Communists, or merely resisting a dictatorship. Clearly, they are portrayed as the "force of good"; and the Falange-Fascists are portrayed as evil, and in particular her stepfather is shown as an amoral monster! I mean, this guy outdoes any "Nazi character" or "evil stepfather" ever portrayed on film! Personally, I don't believe that Communists--with their clear history of incredible mass murder of tens of millions--are any better than Fascists, but that's another issue for another time. Through the dark imagery of the film, there is a whole tense social situation there, with rebels on the inside, and this little girl is right in the middle of this darkness and violence.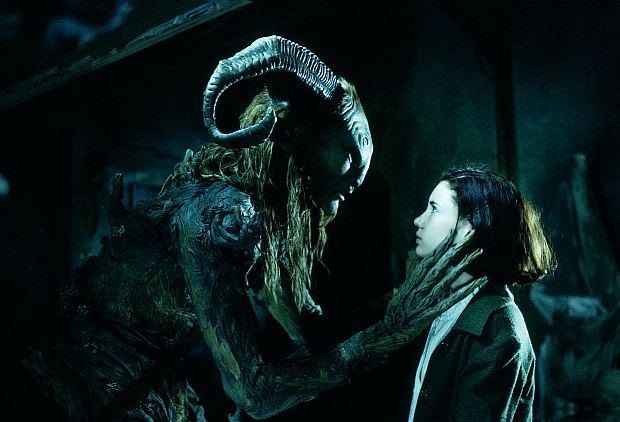 She is slowly guided into the spiritual milieu of "Pan," a ram-horned underworld entity. Since the director, Guillermo del Toro, has directed numerous films with Satanic-themes... I suspect that, to him, Pan represented Satan. Del Toro even said that the character is not Pan, but a "faun." He was portrayed as "firm but fair" (similar to the God of the Bible) as opposed to Captain Vidal.. who was a brutal torturer and murderer. The faun did say that Ofelia was "born from the Moon," of which she had a crescent moon birthmark that he reminded her of. This hints at the ancient Euro-pagan "horned god" and the "Moon goddess"... in other words, "European Witchcraft."
Slowly, the noble-hearted Ofelia, an avid reader of fairy tales, is drawn to the faun though an old nearby "Labyrinth." On a side note, a Labyrinth is a particularly important spiritual symbol to the ancient Camunni... as well as with a lot of other ancient peoples around the world. After awhile, amid Captain Vidal's dark heart and brutality, the faun doesn't seem like such a bad guy. The faun never confronts Captain Vidal, even though he believes that Ofelia is the soul of his long lost daughter. Despite his power, he operates and interacts with humans within the concept of "free will"... similar again to the God of the Bible. Also similar to the Biblical God, he suggests mortal violence as a means to "test an individual."
One character, who slowly grows on you during the movie, is Mercedes, Vidal's head housekeeper and sister of one of the rebel leaders. She is a good-hearted, strong, and brave character who takes a strong liking to Ofelia, and helps give her at least some kind of support system in this mess. Within this struggle for the soul of that nation, I found myself--for brief instances--thinking of Mercedes as a figure like Juana Galán.. maybe a national symbol if events had unfolded differently, if one could muse about a fictional character. There are three Spanish actors--in particular--whose great performances really make this movie. Sergi López as Captain Vidal, Maribel Verdú as Mercedes, and Ivana Bacquero as Ofelia. This movie won a lot of awards, which you can see in the 'Pan's Labyrinth' Wikipedia page. The ending of this film is very dramatic, but I don't want to spoil it.
.