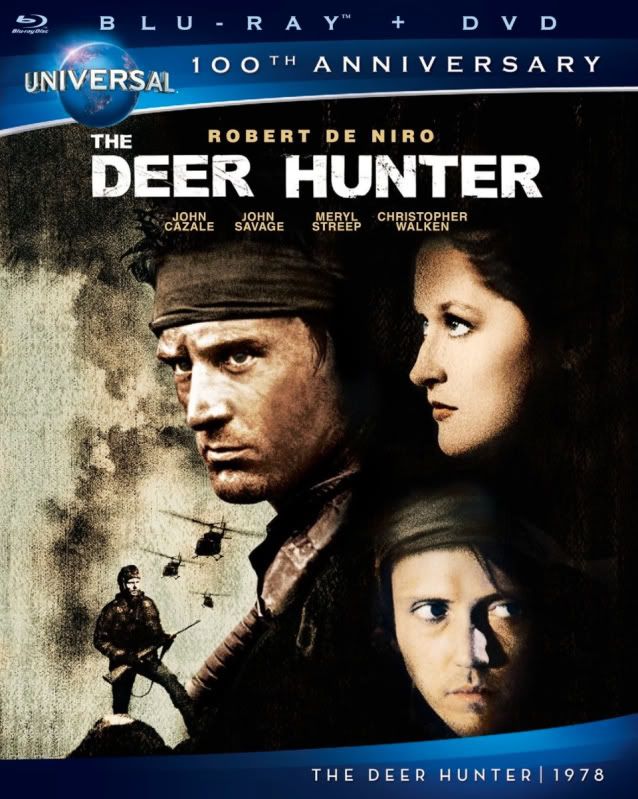 'The Deer Hunter' is a 1978 film which revolves around the Vietnam War experiences of three Russian-American steel workers from western Pennsylvania. The plot takes place in Clairton, Pennsylvania along the Monongahela River; very close to the city of Monongahela. I thought that the film--aside from the Monongahela connection--had many eery similarities and symbolism to elements of Camunian culture.
For one thing, the blue collar Russian-American Orthodox culture of the town had traditional elements and a social atmosphere which were similar to the Roman Catholic/Ambrosian culture of smaller working class towns around the Great Lakes area or western Pennsylvania. Traditional attitudes, values, manner, and self-determinism, mixed with the "work hard and play hard" mindset.
The movie takes place in three acts. The first is prior to their war experience, the second is the war portion, and the third is post-war. Act I shows a common healthy small town life, something like the calm before the storm. It includes a lively wedding scene for Steven (played by John Savage), one of the three close friends, and who ended up being the more fragile of the three. Mike (played by Robert DeNiro), proves to be the strongest of the three, and who tries to provide leadership and strength during all three acts. Nick (played by Christopher Walken) seems to be the middle of the three as far as physical and mental toughness. Linda (played by Meryl Streep) is an important supporting character and defining community member.
Another common feature was the frequent use of the "stag symbol." Sometimes during various searches for "Val Camonica"--for example zazzle.com--I find results that show Cernunnos imagery. The connection between Camunic culture and Cernic spirituality is strong. During two deer hunting scenes in the movie--which were filmed in the northern Cascade Mountains of Washington state--it reminded me of the Alps. During one of those scenes, Mike--the expert deer hunter--has a clear shot at a perfect male stag, and while looking at it, he decides to let it go. The young, full antlered buck then majestically scampers off into the trees with an ominous valley in the background. The powerful music is noteworthy during that scene. Clearly the "stag symbol" is shown in it's historical-allegorical context... as a symbol of masculinity and virility. A shot of a wall mounting of a deer head is even shown during a bedroom scene.
Act II takes place in Vietnam, where the three eventually all hook up together. There's a lot of violence and challenges to their sanity, courage, and nerves. I don't want to give anything away, so I won't go any further. One curious non-contrived scene showed Nick in an army facility recovering one day, when an officer of some rank came to speak with him--to evaluate him I think--as he sat on what seemed to be a second story balcony. After questioning him with not much response, the officer said his name and asked something like "is that Russian?" Nick nonchalantly responded "No. It's American." Personally, I took that as more of a reflection of the individual character and his experiences, rather than something objectively nationalistic.
The film flows along fairly easily, aside from the violent scenes. It's not the type of movie where you really have to worry a lot about missing some important dialogue. The characters were just who they were, and were just dealing with their circumstances the best that they could. There was nothing pretentious about them. They weren't trying to save the world or trying to make some kind of statement, and I think that's why it became so popular against what was initially expected of it.
On a lighter note, during the wedding scene--which was filmed inside of a Cleveland Russian Orthodox Church--I couldn't help but notice a woman who I think was only featured briefly. She appeared as a beautiful, gregarious, red-blooded, central/east-European-looking girl-next-door type, bridesmaid. Sometimes just a face, whether in reality or in art, can be a strong symbol of a time or place. She was someone they grew up with, went to school with, and was part of this sacred day... and shortly afterward they were in a strange far-away place fighting for their lives. I think that's what part of the subconscious message was. The Clairton scenes were filmed in Ohio; and the Vietnam scenes in Thailand.
'The Deer Hunter'
The Deer Hunter is a 1978 British-American war drama film co-written and directed by Michael Cimino about a trio of Russian American steelworkers and their infantry service in the Vietnam War. The film stars Robert De Niro, Christopher Walken, John Savage, John Cazale, Meryl Streep, and George Dzundza. The story takes place in Clairton, a small working class town on the Monongahela River south of Pittsburgh and then in Vietnam, somewhere in the woodland and in Saigon, during the Vietnam War.

The film was based in part on an unproduced screenplay called The Man Who Came to Play by Louis Garfinkle and Quinn K. Redeker about Las Vegas and Russian Roulette. Producer Michael Deeley, who bought the script, hired writer/director Michael Cimino who, with Deric Washburn, rewrote the script, taking the Russian Roulette element and placing it in the Vietnam War. The film went over-budget and over-schedule and ended up costing $15 million. The scenes of Russian roulette were highly controversial on release.

The film won five Academy Awards, including Best Picture and Best Director, and was named by the American Film Institute as the 53rd Greatest Movie of All Time on the 10th Anniversary Edition of the AFI's 100 Years...100 Movies list.
.