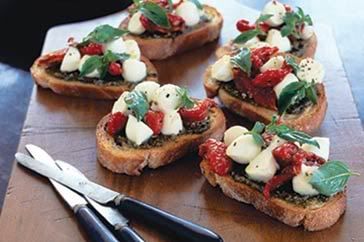 Someone from the Pacific Coast Farmer's Market Association gave me this recipe this morning, so I thought I might add it here, as it appears to be of basically Ticinese origin (modified with the feta).
Swiss Chard Bruscetta
Ingrediants:
* 2 tablespoons olive oil
* 8 ounces Swiss chard, coarsely chopped (about 3 cups)
* 2 tablespoons water
* Salt and pepper
* 1 tablespoon olive oil
* 1 tablespoon balsamic vinegar
* 6 slices French bread, cut diagonally 3/4-inch thick, toasted
* 1/2 cup torn arugula or small arugula leaves
* 2 ounces garlic-and-herb feta cheese or plain feta cheese, crumbled (1/2 cup)
Directions:
In a large skillet or wok heat the 2 tablespoons olive oil; stir-fry Swiss chard over medium-high heat for 2 minutes. Add water and cook 2 minutes more. Add salt and pepper to taste. Remove from heat. In a small bowl combine the 1 tablespoon oil and the vinegar, set aside. To serve, divide chard among the pieces of toast. Drizzle with the oil-and-vinegar mixture. Top with arugula and feta cheese. Serve immediately.
Makes 6 side-dish servings.
Pacific Coast Farmer's Market Association
5056 Commercial Circle, Suite E
Concord, CA 94520
1-800-949-FARM
www.pcfma.com